At DNS systems, we pride ourselves in our exceptional standard of work. We work with you as a client to ensure all your requests are taken care of in a timely manner. DNS systems are NSAI registered with license number 11069. Services we carry our include the following: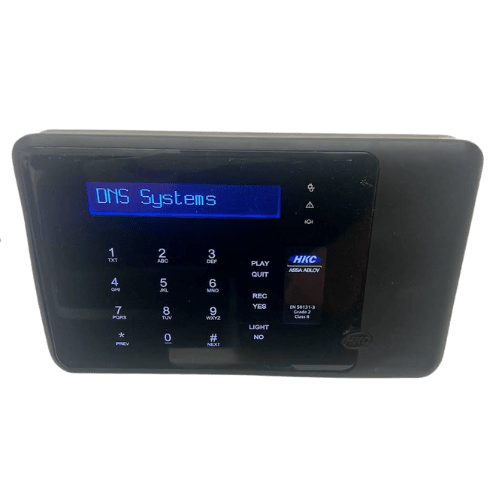 DNS Systems install, service, repair and maintain Wired & Wireless intruder alarm systems for Commercial & Residential use. We use advanced sensors to detect burglary attempts. We can also repair & service alarm systems that were not installed by DNS Systems. Our alarm systems are certified and conform to the I.S. EN 50131 standard covering Grades 1-4.
DNS Systems install, service and repair Access control systems to suit your needs. Access control is crucially important for the security of buildings, property, employees etc. We provide innovative & cost effective solutions and are focused on creating long term partnerships, supported by high-quality service. Our systems conform to the PSA74 standards.
DNS Systems design, install, service & commission new Fire Alarm Systems. Our systems include Always-on Fire detection, even when your house alarm is disabled. We work with a wide variety of clients, large and small and work with a range of Fire Alarm systems. All our Fire Alarms conform with the I.S. 3218:2013+A1:2019 standard.
DNS Systems provide a wide range of products that are suited to our clients' needs. We install High Definition & IP cameras which can be viewed on a monitor and live on your mobile phone or tablet via an app. Our CCTV systems are certified and conform to the PSA 2006_12 standard. We provide CCTV systems to both Commercial & Residential clients.
DNS Systems install Gate Automation for single leaf, double leaf and roller gates. We provide the latest and trusted technologies & equipment alongside a dedicated team of installations, maintenance and repair professionals that will keep your gate automation system operating at its best.
DNS Systems specialise in Data Installations to include Cat 5, Cat 6A, Cat 7 & Fibre Cabling. We offer a design, install and repair service which leaves you with a data network you can rely on far into the future. We work with Commercial & Residential Clients on an ongoing basis to ensure their needs are consistently being met.
We had DNS Systems out to instal Intruder Alarm and CCTV System. Which is easy to use and can be controlled via mobile phone app. It gives great peace of mind. Very professional and highly recommended.
We recently moved into our new build and were looking for CCTV and alarms to be installed. Had rang around a few places and were delighted we went with DNS. They are a local, newly set up company but what sold it for us was the professional and informative attitude of DNS from the first point of contact right up until installation completed. We didnt really know what we wanted (how many cameras,colours etc.) but a site assessment carried out by Brian resolved that issue for us. We could not be happier with our set up and wish Brian and his team every success for the future.......